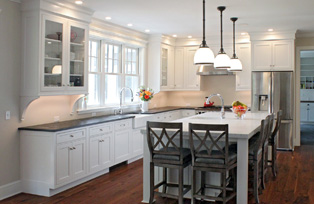 Custom Kitchens

Our design process starts with understanding your home and family. Come in for a design consultation meeting where we'll collaborate with you to plan a room to fit your style, your space and your day-to-day life.
Following the consultation, our designers will refine your design and create a plan that matches your vision and your budget. Over the next six to eight weeks, Wood-Mode Fine Custom Cabinetry will craft the cabinets to the precise specifications of your room. The final installation will leave you delighted with your new space, showcasing the finest products and craftsmanship.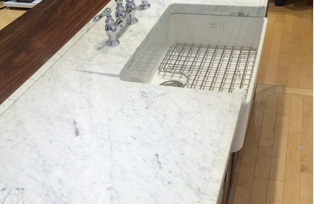 Custom Countertops
Nothing completes a beautiful kitchen or bath like a luxury custom countertop. Vermont Kitchens and Interiors specializes in premium materials including imported and locally quarried granite, marble, serpentine, Cambria, Pental, Caesarstone, Zodiac, Silestone quartz products, quartzite, slate, soapstone, concrete, wood and locally made wood, metal and glass. With an abundance of colors, textures and moods to choose from, we'll help you pair the perfect countertop with your custom cabinetry to give your room a style that's all your own.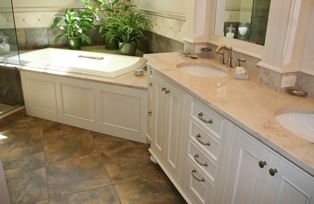 Custom Bathrooms
While some bathroom projects play second fiddle to larger and more involved kitchen remodels, we pride ourselves in the attention to detail our team pays to this very important and often under-served room. We use the same tried-and-true process, perfectly designing bathrooms around your aesthetic and functional needs. From the design and finish of the cabinetry, to the placement of towel bars and mirrors, to the interior functionality of the storage and laundry solutions, our goal is to make your bathroom a peaceful and welcoming retreat. By understanding how you and your family use this space, we can incorporate details that make day-to-day life a little more simple, while showcasing the finest products and craftsmanship.